Kickboxing. Not just a great way to get into shape, but also a fantastic skill to learn to defend yourself. A handy set of tools especially for ladies.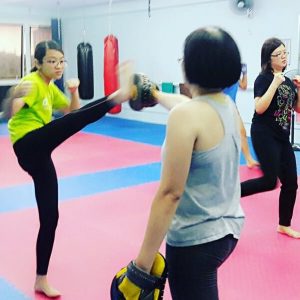 It's a great and fun way to get into shape, help with fat loss, tone & sculpt muscles, improve fitness and health, relieve stress and gain you oodles of self-confidence, all in an action-packed hour. 
Apart from learning some form of self-protection, you will get a fabulous cardio workout. All around, it just kicks ass in a fun & awesome way! 
Both ladies and gentlemen are welcome! Every Tuesday night at 7.30pm.